Shopping Cart
Your Cart is Empty
There was an error with PayPal
Click here to try again
Thank you for your business!
You should be receiving an order confirmation from Paypal shortly.
Exit Shopping Cart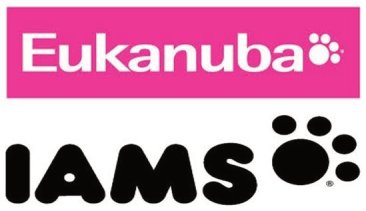 CINCINNATI--(
BUSINESS WIRE
) -- The Procter & Gamble Company (P&G) has voluntarily recalled specific lots of dry pet food because they have the potential to be contaminated with Salmonella. These lots were distributed in the United States and represent roughly one-tenth of one percent (0.1%) of annual production. No Salmonella-related illnesses have been reported to date in association with these product lots.
This issue is limited to the specific dry pet food lot codes listed below. This affects roughly one-tenth of one percent (0.1%) of total annual production. The affected product was distributed to select retailers across the United States. These products were made during a 10-day window at a single manufacturing site. P&G's routine testing determined that some products made during this timeframe have the potential for Salmonella contamination. As a precautionary measure, P&G is recalling the potentially impacted products made during this timeframe. No other dry dog food, dry cat food, dog or cat canned wet food, biscuits/treats or supplements are affected by this announcement.
Salmonella can affect animals eating the products and there is risk to humans from handling contaminated pet products, especially if they have not thoroughly washed their hands after having contact with the products or any surfaces exposed to these products.
Healthy people infected with Salmonella should monitor themselves for some or all of the following symptoms: nausea, vomiting, diarrhea or bloody diarrhea, abdominal cramping and fever. Rarely, Salmonella can result in more serious ailments, including arterial infections, endocarditis, arthritis, muscle pain, eye irritation, and urinary tract symptoms. Consumers exhibiting these signs after having contact with this product should contact their healthcare providers.
Pets with Salmonella infections may be lethargic and have diarrhea or bloody diarrhea, fever, and vomiting. Some pets will have only decreased appetite, fever and abdominal pain. Infected but otherwise healthy pets can be carriers and infect other animals or humans. If your pet has consumed the recalled product and has these symptoms, please contact your veterinarian.
P&G is retrieving these products as a precautionary measure. Consumers who purchased a product listed  should stop using the product and discard it and contact P&G toll-free at 800-208-0172 (Monday – Friday, 9 AM to 6 PM ET), or via website at
www.iams.com
or
www.eukanuba.com
. Media Contact: Jason Taylor, 513-622-1111.

According to PetSmart's website:
Proctor and Gamble has issued a voluntary market withdrawal of Iams Shakeables Turkey and Lamb Dog Treats. These treats are being voluntarily withdrawn due to potential for mold growth.

No other products are affected. Proctor and Gamble claims it has not received any reports of human or pet illnesses.

Turkey Lot numbers end in 419715A and start with numbers: 2342,2325,2331,2332,2341,3016,3017,3018 and 3046.

Lamb lot number is 2338-419715A
To find the lot code on your can, look at the first 4 numbers of the second line on the bottom of the can as they identify the affected lots.
Please stop feeding these products immediately. If you have questions about this voluntary withdrawal, please call Proctor and Gamble (Iams) at 1-877-894-4458.
/